We have moved to Canada! Specifically we have attained Canadian permanent residency through the Express Entry process and moved to Halifax, Nova Scotia.
Yes, it has been cold and snowy; yes, we have eaten donairs, poutine, and donair poutine; and yes, we have had Timbits and double-doubles at Tim Horton's (although I find I prefer a single cream and sugar, which they term a "regular"). No, we have not sampled Beavertails or Alexander Keith's with Clamato…yet.
Why Halifax, you ask? Originally our plan was Toronto (one reason we were there to scout it out last summer), but it's a pricey city and we wanted someplace cheaper, on the East Coast, closer to the ocean, somewhat remote but with urban amenities, and still relatively accessible to Amy's family in New Jersey. Halifax fit these criteria nicely, with friendly people, good seafood, salt in the air, and fully subsidized universal health care.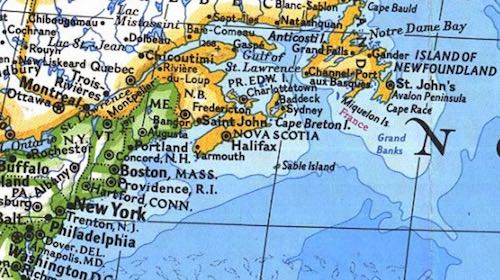 Plus, ever since I was a child I would look at world maps and "Halifax" just jumped out at me as an amazingly cool name. (Apparently derived from Old English "halh-feax".)
On our first trip up here in October we found a nice house to rent in Cole Harbour, a suburb of Dartmouth, Halifax's sister city across the harbour, though still part of the Halifax Regional Municipality. (Hockey fans may know Cole Harbour as the birthplace of Sidney Crosby.) We sold most of our furniture, shipped the rest of the stuff up through international movers (still en route at the time of this writing), and flew up with the cats early this month. I'm back and forth a few more times to get our old house ready to sell, drive up the cars, and wrap up work and other loose ends around DC. Amy has been furnishing the house with stuff from Kijiji, Canadian Tire, and IKEA Halifax. Ezra has been enjoying the snow. We'll of course have to find some work.
This wasn't an easy decision, a new step out into the void, but it seemed like the best course of action given this whole situation. The Lord has not steered us wrong in this and we have faith he'll land us on our feet. Meanwhile, the lobster flows like wine, and we get some nice Nova Scotia sunrises on clear mornings from this new house.
More photos from our first months in Halifax as we get our bearings and learn more about Nova Scotia and Canadian life.