This is Antares, a commercial rocket assembled by Orbital Sciences to deliver the unmanned cargo capsule Cygnus to the International Space Station for NASA:
Powered by two liquid fueled Soviet NK-33 engines refurbished by Aerojet and mounted into a Ukrainian-built first stage topped by a US ATK solid-fuel second stage booster, Antares A-ONE, the first test flight, would launch into orbit the Cygnus Mass Simulator to prove to NASA the rocket's viability for launching payloads to the ISS.
Last week I was one of twenty-five NASASocial participants invited to come see the Antares rocket's first launch from NASA's Wallops Flight Facility, and given the same access to prelaunch and launch events as members of the media. The trip would include tours of Wallops and the launch pad, press conferences with NASA and Orbital execs, and the launch of the rocket itself. Between events I would stay on nearby Chincoteague Island and sample some of its off-season delights.
It would be my first NASA Social event since Juno in 2011.
Day 1. After breakfast Amy dropped me off at the local rent-a-car, where I asked one of the most important questions of the trip: "Do you have a Fiat 500?" And they totally did. Most fun I've ever had driving for 3.5 hours.
I got to Wallops a bit late, missing the first round of introductions, but with just enough time to register and hop on the bus for the Wallops facilities tour. First stop: scientific balloon processing.
Huge helium balloons carrying payloads on long-term science missions can easily take on the complexity — and manpower requirements — of full spacecraft. Launched from sites around the world, the balloons float through the upper atmosphere, rising and sinking as they lose volume in the cold of night and re-expand in the warmth of day, while their scientific payloads exploit the high altitudes and thin air to peer into nearby space and earth below, at, at cheaper costs and longer durations than many satellite missions.
Of special interest were the Super Pressure project, a balloon designed to inflate at a higher pressure than the atmosphere side and maintain its altitude consistently through day and night; and the Wallops Arc Second Pointer (WASP), a super-precise celestial object locator.
Next stop: sounding rockets, specifically payload processing. Here we learned about how scientific instrumentation packages are assembled and prepared for flight.
Wallops frequently launches small sounding rockets on unmanned suborbital trajectories for short-term scientific experiments that need to get out of the atmosphere, but at lower costs than an orbital mission needing bigger launch vehicles. Some of these missions involve sensing probes briefly exposed to the environment of outer space, while others release gas tracers into space or the upper atmosphere, all lofted on surplus rocket motors from old Army missiles, for a fraction of the cost of a bigger rocket-launched mission. (You may remember my view of ATREX, the 5-rocket upper atmosphere gas tracer mission.)
On the tour we were shown how payloads are prepared, mounted, and stress-tested for their short suborbital missions. Much hardware is reused, with many payload parts that survive reentry and landing durable enough to go multiple times. Some of the payload mounts had been going into space repeatedly for decades.
Most intriguing bit was the demo of a compressed nitrogen gas reaction control system for stabilizing and magnetically aligning angular movement on sounding rocket payloads. We had to wear eye and ear protection as the gas thrusters were rather strong and loud.
At day's end I drove down the causeway over a marshy channel dotted with billboards, on to Chincoteague Island, and checked in to the ABVI Chincoteague before going out to Don's Seafood for a supper of local oysters and crab claws.
I walked down the waterfront a bit to catch the sunset and fishing boats, then back down Main Street to visit the sculpture of Misty before retiring to my motel room.
Day 2. Second day was a tour of the Mid Atlantic Regional Spaceport, the old Wallops Island launch site, now redeveloped by Virginia and Maryland into a commercial launch site. First stop: the Horizontal Integration Facility (HIF), a hangar where rockets are assembled on their sides before being delivered to the launch pad to be set upright.
With Antares A-ONE and the Cygnus Mass Simulator already on the pad, the next rocket, meant to deliver an actual Cygnus module to the ISS, was about to be mated, first stage to its AJ-26 motors and ATK upper stage. In addition to Q&A with Orbital execs and engineers, a few volunteers were also treated to a ride on an accordion crane lift to see the rocket stages from above. (Full video of crane ride.)
Next stop: Pad 0A, where Antares A-ONE itself stood upright awaiting launch. The rocket stood 130 feet tall on the pad, accompanied by lightning towers and the water tower which feeds the pad fire and sound suppression system. We were allowed about a quarter of the way up the ramp for a group shot and Q&A with VCSFA execs.
Around the other side of the launch pad the parking lot had been set up for a NASA press statement and additional photo opps. There was a nice view of the rocket through the fence.
Also visible nearby was Pad 0B, where solid Minotaur rockets are launched.
I managed to venture out towards the beach to stand on a dune and catch the Atlantic Ocean right by the pad.
Restroom use for the area was in a small, nondescript building by the lot — but inside it buzzed with activity, rocket engineers and support staff going through prelaunch inspections and activities on their laptops. It was a fascinating glimpse behind the curtain, especially knowing that on launch day the scientists and hardware would be evacuated and this building would be in a blast zone.
Camera Drama. I dropped my DSLR camera, a Sony NEX3 with 18-55mm lens, right at the start of the HIF tour, and it stopped working, which is why most of my photos from the day were taken with an iPhone or iPad, with video from a pair of You-Vision camera glasses. (We were also asked to turn off all phones and tablets in the HIF, even in airplane mode, due to a radio signal risk with the explosives in the solid rocket stage, so the video glasses were all I had for most of the HIF.)
The NEX3 was tragically unresponsive after the fall, and I decided to replace it with a new mirrorless DSLR before launch. This meant driving to the nearest Walmart in nearby Pocomoke (poor camera selection), then to the Best Buy in Salisbury, 45 minutes north, where I was able to purchase a Nikon 1 J1. En route I was able to meet up with a friend at Pemberton Coffeehouse in Salisbury, so it wasn't just an emergency camera trip; it was an adventure.
When I got back to my motel room with the new camera I gave the old broken one a whack — and it started working again, flawlessly, like nothing had happened. I was equal parts jubilant, bemused, and annoyed, as I'd gotten back my old camera, but would now have to return the new one I had just purchased, after hours of driving. (I did so on my way home.)
Day 3. I had breakfast at the local McDonald's, a surreal outpost sitting on the edge of the marsh beside the wildlife preserve, the only McDonald's I know with a view like this, or stray cats in the parking lot.
Then, a drive down to the end of the road: Assateague Seashore, for a mile of walking along the Atlantic. The beach was mostly deserted except for some park rangers and a lone fisherman.
I didn't reach the far south end of Tom's Cove as I had to get back to Wallops on a schedule, but I went as far as I could go and got photos of the seashore and the many shells in the sand.
Part of the beach was fenced off to protect Important Nesting Birds.
Back at Wallops, prelaunch press conferences included NASA Deputy Administrator Lori Garver, and a special Q&A session with NASA Administrator Charlie Bolden just for NASASocial. (Regular press journos were understandably annoyed at the exclusive access for Social, though after sitting around a table with them for an hour I could see why Bolden might prefer the Social group.)
Bolden on Risk. I had two questions for Charlie Bolden: one real-life, one hypothetical. The hypothetical went thus: If space program funding were somehow proportionally returned to Kennedy/Johnson levels by Congress, what would you do with NASA?
Bolden's answer was, to me, a disappointment: he would use the funding to "buy down risk" in existing NASA programs without adding new ones, instead buying additional margins for safety and maintainability of staff. There was a bit of rambling about a couple of existing aeronautic and scientific programs: Global Hawk UAV-to-UAV refueling and geological observations of crustal drift, but he only added commercial space launches and SLS as an afterthought. It was a good answer from an administrative accountability viewpoint, but presented nothing truly inspiring in terms of bold forays into manned or unmanned deep space exploration.
His answer to my other question about real life was much more to my satisfaction: between Houston Texans and Washington Redskins, Bolden was more a fan of the latter, and of RGIII specifically.
Launch Attempt One. After lunch, Media (Social and Traditional) piled onto two buses for a short ride to the press viewing site, a field in Assawoman, by a building marked "Atmospheric Physics Measurement Laboratory," just two miles from Pad 0A.
Great view of the rocket, but sadly launch was not to happen that day, as an abort occured at T-12m due to a premature umbilical disconnect. The day wasn't a total wash, as rockstar Kim Boekbinder was nice enough to indulge me in a few "cape" shots for a mutual follower's amusement.
I spent Wednesday night alone in a corner of Chattie's Lounge, blissfully obliterating a pile of Old Bay steamed jumbo shrimp with a 90 minute Dogfish Head IPA while a Pearl Jam cover band played in the bar area. Outside, Chincoteague felt like a ghost town.
Thursday launch was a no-go due to launch crew readiness concerns, and Friday was looking bad weather-wise, so I opted to check out of the inn and head home on Thursday to recover a bit before returning over the weekend. The extra morning gave me some time to drive around Chincoteague Island a bit and see the very southwest end of Main Street, ending in a small trailer park and a harbor with a decent view of the marsh and the sea looking towards the spaceport.
Before leaving I had one last lunch of oysters and crab soup at Bill's Seafood.
I won't bore you with all all the details of the drive home, but I dropped off the new camera, still in its box, at the Salisbury Best Buy, which caused the GPS to change my route a bit and send me home through Delaware rather than Maryland. Also I will never drive I-295 at rush hour on Friday ever again.
Launch Attempt Two. As expected, Friday launch was scrubbed due to weather, with Saturday being the next attempt. I drove back to Wallops on Saturday morning (no Fiat 500 this time, as our own car was available for the weekend), passing by a DQ in Seaford to return an order number card I had inadvertently pocketed the previous trip.
Back at Wallops I had dressed up in a classic Star Trek uniform just for the fun of being a redshirt at a rocket launch. Launch was again scrubbed, however, due to high level winds posing a toxic debris risk to Assateague in the event of a high-altitude vehicle failure. Still, I managed to have some red shirt fun, and joined a group of other space writers and photographers on a trek to Arbuckle Neck, a rural road that terminated in a public viewing site with an amazingly close view of Pad 0A from across Oyster Bay.
For dinner I had a shrimp basket at the diner with Brent, a fellow Christian and a writer for Takoma Voice, then checked in to Sea Shell Motel for the night.
Launch Attempt Three. I slept extremely well and late, waking to a brisk, cool, clear morning that promised good launch conditions. Leftover fried shrimp made for an excellent breakfast, and for lunch I found a wonderful Sunday buffet for $8.95 back at Don's Seafood.
The crowd at the Wallops Antares media center had gotten sparse; today was the last launch viewing opportunity for a lot of journos and social media participants, and most had already gone home. NASA and Orbital were nice enough to keep the media center staffed and running with talks and Q&A sessions.
I had an interesting conversation with Orbital CTO Antonio Elias about rocket fuels. Liquid oxygen is actually in much higher demand in the medical field than in the space launch industry; the real shortage is in the supply of helium, which is needed to pressurize LOX tanks, and the primary sources of helium are natural gas and shale oil, the processing of which helium is a byproduct. Also, first stage hypergolics were not an option for Orbital, for completely understandable safety reasons.
Launch was still go, and we piled onto a school bus to head back to the press site. En route, I was able to record the somewhat morbid safety briefing on procedures in case of a launch emergency:
At the press site I set up my NEX3 and tripod in a more wind-shielded area in the lee of the laboratory building, well behind the line of cameras on the opposite end of the field. The launch delay had provided me an opportunity to get a camera microphone to better record the sound of the rocket.
Liftoff went perfectly: countdown, ignition, cloud of smoke, rocket majestically ascending into a clear sky atop a brightly glowing launch plume with a deep, thunderous roar. Heavy liquid fuel rockets accelerate slowly and don't leave much of a trail, so for a few seconds the rocket seemed to hover over the pad as it climbed, a faint gray-brown trail blowing in the wind below. Velocity kicked in quickly, however, and soon the rocket had disappeared into a clear blue sky, arcing eastward towards an orbital trajectory. By the point of staging it was far too faint to see unaided.
Shortly after launch, flames and black smoke appeared around the pad; apparently the heat of launch had triggered a small brush fire, but the pad itself was safe.
The bus ride back to Wallops took a lot longer due to launch viewing traffic — more than the area had ever seen in one day, even for Chincoteague pony swims. A triumphant press conference followed in the Wallops Visitor Center auditorium, after which I got a photo with former astronaut and now Orbital EVP Frank Culbertson.
Outside, the sun was setting as the visitor center closed up. Gene and I were the last ones out of the parking lot, and after a quick stop at the local Greek deli for some pre-trip sustenance, I was on the road back home.
Antares A-ONE was historic; not only was it the second successful commercial launch after SpaceX under NASA's Commercial Space Transportation program, but it was the first liquid-fuel rocket to launch from Wallops, Orbital Science's largest rocket to date, the largest rocket thus far to launch from the Virginia coast, the first flight of the NK-33/AJ-26 rocket engines, and a huge boon to the local economy.
That's Antares's Rocketcam view of the MD/VA Eastern Shore from 50 miles up. This view hasn't been seen before (at least one Wallops Minotaur launch had a downward-facing rocketcam on board but it was a night launch so the view was dark), but it's about to become a lot more common.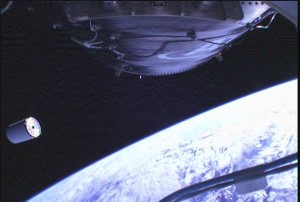 Orbital is planning cargo resupply missions every 3-6 months if Antares keeps working as smoothly, and NASA Wallops and Mid Atlantic Regional Spaceport are growing a fairly robust spaceflight infrastructure which, if things go right, could transform the region into the VA/MD Eastern Shore's own future version of Cape Canaveral. I'm looking forward to it.