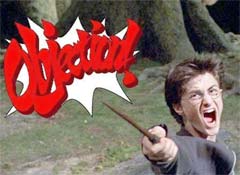 Two days ago I wrote a "Harry Potter and the Deathly Hallows" parody in which I jokingly claimed to have an advance copy of the book, and proceeded to "spoil" the story by revealing an outlandish and badly written Scooby-Doo-like ending in which Voldemort is unmasked as Professor Flitwick, whose attempt to steal Harry Potter's gold is foiled by "meddling kids." It seemed an obvious enough parody, what with the additional "Jinkies," "Zoinks," and image of Velma Dinkley. As you might see from the comments, the humor may have been a bit too subtle for some. Even legal counsel at Scholastic Inc., the U.S. publishers of Harry Potter, was taken in, if this email I received from them is any indication:
From: Baender, Margo

To: Paulo Ordoveza

CC: Dev Chatillon, Mark Seidenfeld

Date: Jul 20, 2007 12:02 PM

Subject: FW: Notice of Infringement/Harry Potter and the Deathly Hallows by J.K. Rowling

Dear Sir/ Madam,

I, the undersigned, certify under penalty of perjury that the information in this notification is accurate and that I am authorized to act on behalf of J.K. Rowling, the author of the Harry Potter books and owner of copyright rights therein, and Scholastic Inc., exclusive U.S. publisher of the Harry Potter books, including without limitation the cover and all other art incorporated therein (collectively, the "IP Owner"). I have a good faith belief that the materials identified below are not authorized by the IP Owner, its agent, or the law and therefore infringe the IP Owner's rights according to state and federal law. Please act expeditiously to remove or disable access to the material or items claimed to be infringing.

I may be contacted at the below address/phone/email. Thank you in advance for your immediate attention to this matter.

Sincerely,

Margo Baender

Counsel | Scholastic Inc. | 557 Broadway | NYC NY 10012

[contact info removed]
I had heard about Scholastic going mad over the book being shared in advance via the internet, but I certainly did not expect to be hit by their scattershot approach to suppressing the leak. Baender, Chatillon, and Seidenfeld seem to be running simple searches for spoilers and shooting off boilerplate "infringement notices" willy-nilly, without regard for actual content. Here is the reply I sent back:
Dear Ms. Baender,

I'd like to know if you took time to read the "infringing" piece in question before sending me the standard Scholastic/Harry Potter legal notice which is currently being strafed across the internet by Scholastic legal counsel. Here is the link again. Please read it very carefully, taking note of words and phrases such as "jinkies," "zoinks," and "meddling kids."

I know you have little time as you are busy sending infringement notices to the rest of the internet as well, so to make it quick and easy for you, what I posted was a joke thinly disguised as spoilers; a deliberately badly-written Harry Potter/Scooby Doo "mashup" parodying both franchises, as well as fanfiction culture in general. This falls well within the definition of fair use.

I hope you will not mind too much that I am also forwarding this notice and my reply to Chilling Effects, Consumerist, and to my peers and editors at my workplace, [prestigious news magazine with a blogging policy]. I am retaining the material on my website at this time.

Sectumsempra,

Paulo Ordoveza
We'll see what they say, if they reply at all. I must admit, this makes me rather less amenable to patronizing Scholastic Inc. with my business, whether for Harry Potter or for other paper publications. I'm mostly with Ms. Rowling on wanting to keep the book a surprise for its fans, but when a publisher's lawyers send clueless "infringement notices" because they can't tell the difference between Scooby-Doo and Sirius Black, well, that makes me feel like the book is being sold to me by Dementors rather than wizards.
More info: Notes on fair use as applied to parody, and other incidences of infringement notices received from Scholastic Inc.
Standard disclaimer, of course, the opinions presented here are my personal opinions and in no way reflect the opinions of [prestigious news magazine with a blogging policy]. I did copy some of my coworkers in my reply for their own amusement.
Update: Also on Chilling Effects.