Busy busy weekend, and it's going to be a busy May. Had an apartment yard sale yesterday (finally sold that comforter and phone), then there's church and choir practice today, then the Darfur Rally, then a concert at the NGA, and just now Mom texted me to go to Best Buy and get her a new digital camera. (Update: Mom's going to buy the camera herself, and I skipped the rally and classical music, but now I'm helping a neighbor move to a new apartment. Still busy.)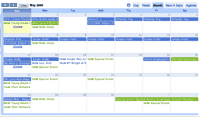 For most of the first week of May, I'm going to Orlando, where my family has already begun to gather for a convention my father is attending. I haven't been to Disney World for over a decade, so I'm really looking forward to giving Mission: Space a try. After that, I fly back to DC with my younger brother in tow, and he stays over with me for a week. At some point in the month, there's jury duty, N.T. Wright, work, and I push my freelancing forward full ahead. And most importantly, Amy's graduation is coming up, when she finally gets her MFA.
I'm going to breathe a sigh of relief when May's over.
He gives power to the faint, and to him who has no might he increases strength. Even youths shall faint and be weary, and young men shall fall exhausted; but they who wait for the Lord shall renew their strength; they shall mount up with wings like eagles; they shall run and not be weary; they shall walk and not faint. – Isaiah 40:29-31