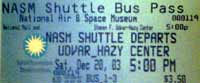 In the post about Seagulls On Ice, I mentioned that Amy and I were off to the NASM Udvar-Hazy Center in Dulles, but I never got down to writing about how that went, did I? Well, It was great, well worth the 45-minute bus ride from DC out to VA.
The annex is a huge hangar containing artifacts from almost every era of aviation history — those that would not fit in the main Air and Space Building. Smaller planes were hung from the cavernous ceiling, arranged as though in an airshow, while larger aircraft — which I was far more interested in — sat on the hangar floor. Right at the entrance was the SR-71 Blackbird, sitting before the Space Shuttle Enterprise. Near that was the restored and reassembled B-29 Enola Gay, its label ominously playing down Hiroshima and Nagasaki in favor of more technical aviation info. (Protestors had splashed the bomber with red paint, but it appears to have been cleaned off.) Further down, the world's only remaining Stratoliner (recent crash survivor) glinted silver beside the Dash 80 prototype. At the food court side of the hangar, a newly retired Concorde dominated the view.
A few drawbacks: disappointingly, none of the aircraft interiors were open to tourists. Also, while the Space Hangar is still being constructed, most of the Space Shuttle is cordoned off so you can only view it from the front or from afar and above. And one tip for visitors going to the annex, there are practically no food options at the Udvar-Hazy Center, so eat first. There's only one tiny Subway sandwich stand in the "food court." Their supply of personnel and box lunches is severely limited, the line stretches halfway across the hangar at the peak of lunch rush, and seating may not always be available. It doesn't look like they'll have a proper food court till summer of this year. Also, if you want to get up to the viewing tower to see planes landing at Dulles Airport, you'll need to come earlier in the day to get tickets, which are in high demand and low supply.
Otherwise, the place is great: a flight-nerd's dream. I highly recommend it, just as long as you start with a full stomach. Photos here.