To commemorate nine months of Nova Scotian unemployment, I collaged all my job application rejections over a scenic photo of the lighthouse at Peggy's Cove. This only covers a fraction of total applications; many other employers never got back to me at all.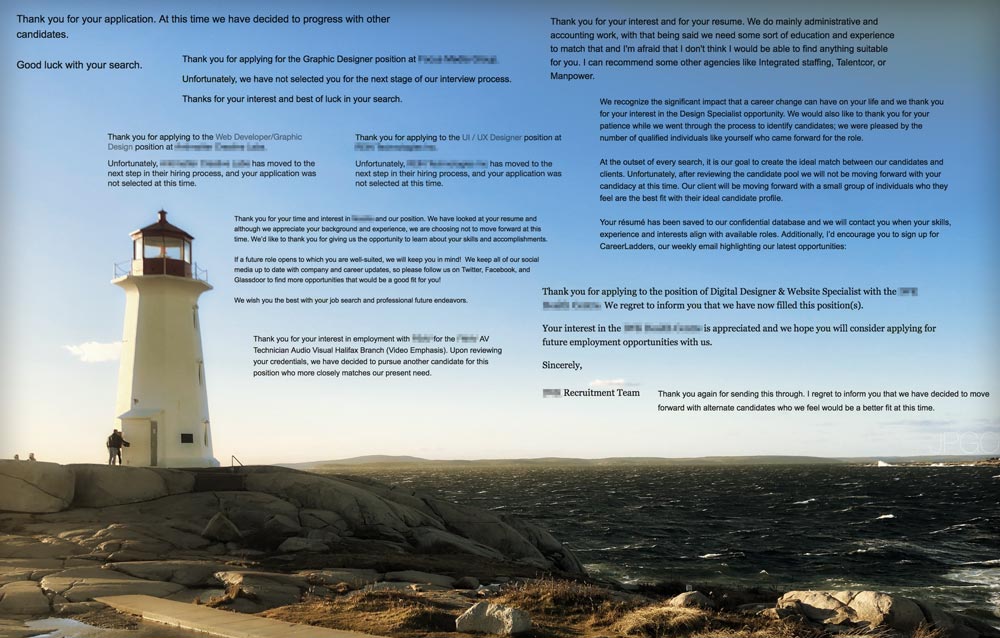 I knew what I was getting into when we moved to Nova Scotia; the local economy isn't great and people wait months or even years to get full time jobs. I had a few false starts, including two weeks as a remote transcriptionist for LinguistixTank, some promising but ultimately unproductive leads from local recruiters, a convincing-sounding employment scam, and a few hours of freelance design work. After most of the year, unemployment was starting to wear down at my resolve and self-esteem — and our savings.
But things got better last month, when I was hired by, of all people, the Trailer Park Boys.
Here's the cover letter that got me an interview:
When I got Canadian permanent residency and moved to Halifax from the States last year, it was a huge life reboot that left me feeling rudderless and isolated. You know what got me through that lonely adjustment period and made Nova Scotia feel like home?

Trailer Park Boys.

Living out in Cole Harbour (JP Tremblay's own childhood stomping grounds) and learning about Canadian living while searching for jobs and making local friends, I streamed through the full Trailer Park Boys canon — series, movies, live shows, animation — until Ricky and Julian and Bubbles and J-Roc and Tyrone and Mr Lahey (10-4, good buddy) and Randy felt like they were my own horrible drunk and high neighbours right down the street. Since I started watching it's given me a laugh to see things like Julian lighting up his '87 Monte Carlo outside our local pizza delivery place on Cole Harbour Road, or Randy picking up clients for cheeseburgers at the Dartmouth KOD where I got my first donair.

It would be a great honour now to give back and help TPB share what they gave me when I first came to Nova Scotia: that distinct feeling of Canadian place and friendship which helped me feel more like a Haligonian. I bring with me years of experience in website management, graphic design, front end development, and video post-production for government and commercial clients such as NASA, the Library of Congress, and US News & World Report. I know my way like a pro around Mac OS X, Adobe Photoshop (and the rest of the Creative Cloud apps), Microsoft Office (Word, Excel, Powerpoint, as is standard), WordPress, and also know my way around a Linux command line, PHP development, copy writing and editing, and social media. (Ask me about the time I was interviewed on BBC World News about my 28,000 follower viral image verification Twitter account.)

As mentioned, I live in Cole Harbour, and am available for an interview most any time of any day. My resume is attached and also viewable on my website with my creative portfolio at https://paulo.ordoveza.com. I look forward to hearing from you.
And so I'm now webmaster for SwearNet, the Boys' subscription-based comedy streaming network, and its associated subsites. This was quite possibly the most Nova Scotian outcome I could have expected; it's been extremely interesting, very educational, and lots of fun. Cue this theme song; it's part of my life now.