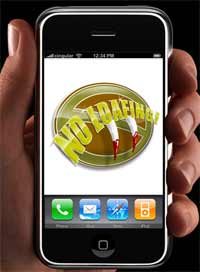 So new iPhone owners have had a weekend to try out the new toy, and reading through the feedback online, I can't help but feel just a bit of schadenfreude at the plight of those who thought the misery of being locked into a two-year contract with AT&T would be worth the joy of using a first-generation Apple mobile device.
"Activate!"
Other people: still waiting, waiting, waiting.
As we can see, activation of iPhone buyers' AT&T accounts is turning out to be an issue, and problems now abound, with some users waiting as long as two days to get service — or to still not have service, even after multiple aggrieved waits on hold for useless conversations with support reps. Rogue Amoeba seems to have had better luck, but only after finding out that his activation had to be done manually, and that someone had failed to click on an "ACTIVATE" button. TUAW details some of the hoops to jump through to get service, but it's pretty clear this is definitely not a case of "It just works."
"6079 Smith W.! Yes, you!"
Even disregarding customer service issues, the problem of AT&T's opposition to net neutrality and citizens' basic rights to privacy are still a looming factor: see this ActForChange petition to Steve Jobs, which also covers phone lock-in, which I regard as plain and simple sabotage. Why Apple fans would so willingly fork over so much cash for a closed, crippled device serviced by an unethical provider is beyond me.
"It's a Feature."
iPhone lacks a clipboard. What the hell. My Nokia 6600 can do copy and paste. My Palm Z22 and IIIxe can do copy and paste. How could this have slipped by Apple? And have you tried typing a secure non-dictionary password with that keyboard?
And as I rudely discovered last Saturday, while the phone has a camera, there's no immediately apparent way to send photos via anything other than email. No sending via infrared, bluetooth, or MMS — all basic methods of transfer available on just about any other phone for ages.
Other Stuff
Ending With the Good
But let us not be a wet blanket, but rather focus on the good. The iPhone's prime strength is in Safari, and pending cut-and-paste functionality it should be a major boon to anyone who needs a full-featured standards-compliant browser and internet connection on-hand at all times.
And remember, this is a first-generation Apple device. This iPhone may be to mobile communications what the the first iPod was to portable music. Expect improvements, if Apple can manage to rise above the sludge and mire that is the U.S. telecom industry.
In closing, I give you Sunday's Opus. Apparently iPhone 2 will have "DTT."