Update: It was a great day and a fun festival, plus I scored some amazing 19th Century artifacts at the book sale (more on that soon). Photos of the festival here. The band is The Beanstalk Library.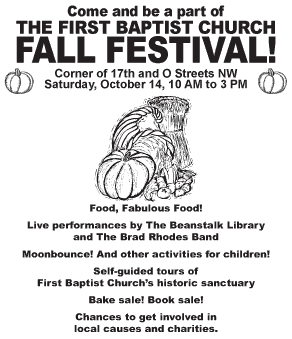 This is where I'm going to be all day today. I've been on the planning committee for the past month or so, and it'll be great to finally get to the event itself. In fact, I'm running late to pre-festival setup just to post this. For you!
So, if you're in the neighborhood (Dupont Circle / 17th Street area), come on over. I hear word on the street that the new Dunkin' on 17th will be there with free donuts and coffee. We'll also have a local farm setting up a table to sell organic produce, the youth are doing a bake sale, and we're hauling up a bunch of books from the basement to sell cheap. Live music, too. Oh, and a moon bounce for the kids (or "bouncy castle," as they call it in England). And hay bales. Can't have a fall festival without hay bales. (Would you believe we almost rented a sno-cone machine with the moon bounce? Fortunately cooler heads prevailed. Get it? Cooler? Haw haw!)
Um, so, yeah. 17th and O Streets NW, then. Festival runs 10am to 3pm. See you there.