Update: See Lost Bags: Followup for the resolution of the problem. Airtran sent me a replacement bag.
---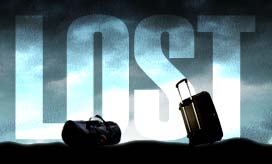 On May 7th, 2006, I and my brother were booked for Airtran #109 from Orlando International Airport (MCO) to Atlanta (ATL), to transfer to Airtran #182 to Washington National Airport (DCA). We arrived at MCO to find that #109 had been delayed such that we would miss the Atlanta transfer to #182, but later learned that #182 had also been delayed due to weather conditions, so we would be able to make the transfer after all.
The transfer at Atlanta that night was the fastest we had ever done: walk from the Boeing 717 at Gate C9, to get on the other Boeing 717 at Gate C10, which pushed off almost as soon as we had boarded. I wondered as we took our seats whether there had actually been time to transfer our bags in that short period.
We found out after landing at DCA that no, there had not been time, as neither of our bags showed up on the baggage claim — though we did notice that other transfer passengers from Orlando had gotten their bags. Upon learning that all bags from Airtran #182 had been unloaded, we entered the baggage service room and filled out the requisite Lost Baggage forms. These were difficult to understand, and the bag description fields gave no indication that a handy numbered baggage-type chart was hanging on the wall right behind me for reference. The attendant told us that upon receipt of the found luggage, it would be delivered to us at the address we had given on the forms.
The next day, someone from airport services called to say that our bags had been found and could either be picked up, or they could deliver them straight to my residence within a four hour window. I was quite happy about this, opted for delivery, and called work to say I would have to take the afternoon off so I could receive the bags within that window.
At around 3pm, the bags had not arrived yet, and I received another call from the same person at airport services, asking to confirm my address. I asked why the bags had not been delivered, with the four hour window almost up, and the person on the line told me that the four hour window was from the time that the bags came to them at the Baggage Service office, not from the time we were informed the bags were found. The bags had just arrived there, so my four hour window was supposed to be until 7pm. This misinformation left me rather angry, and I asked if my bags could be prioritized, as I had work to attend to. They told me that this could be done.
At around 6pm, the bags still had not arrived, and I called again. The conversations that occurred here were quite confusing, with the contact at National Airport attempting to conference me with the mobile phone of the bag-delivery driver, getting only a voice mail message, and accidentally (?) hanging up on me twice. People who know me, know that I am a fairly calm person who doesn't normally raise my voice in any situation, but this had me yelling. This travesty of service was a complete outrage.
The delivery finally arrived at 7:30pm, half an hour past the end of the four hour window. The bags were quite battered: the hard lining of my suitcase had been crushed, so that the top of its frame was misshapen, and my brother's TSA-approved padlock was missing. Fortunately nothing else had been lost — or stolen.
I suppose there are a few lessons to be learned here: always try to go carry-on, and pick up bags at the airport rather than request delivery. This whole affair — careless management of checked bags on delayed connections, poor communication with ground services, and untimely delivery of found baggage — has left me sour about ever trusting AirTran or Washington National Airport ever again with my travel, especially with checked bags.
(CC:'d to Air Travel Complaints, AirTran, and National Airport Operations.)
Update: See Lost Bags: Followup for the resolution of the problem. Airtran sent me a replacement bag.