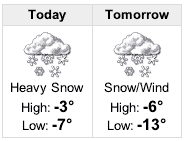 I'm now in Union, NJ, where the water sphere is tall and the blizzard warnings are in force. Excerpts from today's storm warning:
...BLIZZARD WARNING FOR THIS AFTERNOON THROUGH SUNDAY MORNING...
TOTAL SNOW ACCUMULATIONS WILL BE 16 TO 24 INCHES BY SUNDAY EVENING.
VISIBILITIES WILL BECOME POOR...WITH WHITEOUT CONDITIONS AT TIMES.
ANY TRAVEL IS STRONGLY DISCOURAGED. IF YOU LEAVE THE SAFETY OF BEING INDOORS...YOU ARE PUTTING YOUR LIFE AT RISK.
THIS IS A LIFE-THREATENING WINTER WEATHER SITUATION! PREPARATIONS TO PROTECT LIFE AND PROPERTY SHOULD COMPLETED BY NOON TODAY!
I think I may be forced to stay an extra day. Which I don't think I mind. Amy and I are off to buy snow boots.