I have no wry or cynical David Foster Wallace-ish observations on this cruise other than what I mentioned about pre-boarding unpleasantness before departing Venice. Once aboard the ship we had a lovely week, with epic destinations, flawless weather, friendly service, and delightful food. In a week we passed through Dubrovnik, Athens, Ephesus, and Split.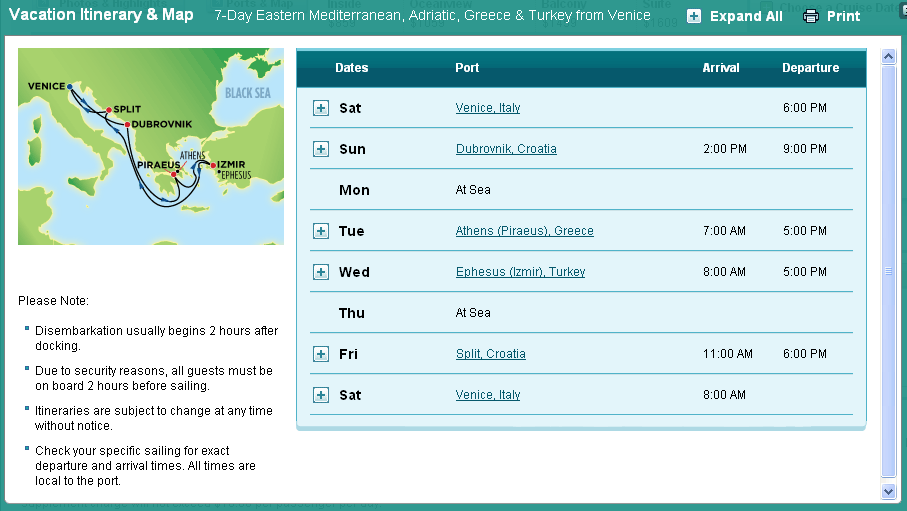 This being our second cruise ever (the first one was on NCL Sky in 2010) comparisons are inevitable. We had a pretty awful time pre-boarding, but the first nice thing once on board: we can go straight to our stateroom, unlike on Sky where we had to wait a couple of hours and walk through a shifty partner bazaar before the rooms opened. (Arriving a bit later in the day may have helped.)
I'm especially glad for our balcony stateroom this trip (thanks to an upgrade promo). From the balcony we can enjoy views and winds and sun without having to mingle with crowds of passengers on the pool and promenade decks — a blessing for introverts like us, and worth the splurge.
On boarding we head for Blue Lagoon, the ship's 24 hour comfort food diner, but this early in the cruise the diner is still closed for embarkation procedures, so end up mingling with the pool deck sailaway BBQ crowd after all. Good time to start getting acquainted with the Filipino crew.
"Happy happy washy washy" is a theme song amongst crew members wielding sanitizer spray bottles at various junctions. We will hear it sung all over the ship through the whole cruise. Corny, yes, but also catchy, and a lighthearted way to encourage at least cursory hand washing. (It must have worked since we never saw an outbreak of gastroenteritis.)
On departure we retire to our stateroom to watch Venice slide by. As mentioned previously, port side balcony is definitely the place to be for cruises out of Venice; the views are breathtakingly epic.
For dinner that first night we eat in Alizar , the "modern art"-themed Main Dining Room. The decor is a bit tacky, with textured abstract paintings on the wall reminiscent of virus-infected Rothkos, but par for the course for any luxury cruise ship. We decide to try the other main dining room, Grand Pacific, next evening.
Oh, another thing: after three nights in a warm hotel, the air conditioning in our stateroom is glorious.