I haven't posted about LOST for a while, so here are my disjointed thoughts on the last few episodes. Spoilers follow.
> If LOST were Harry Potter, Ben would be Snape, Locke would be Dumbledore, and Jacob would be Peeves the Poltergeist.
> Speaking of Jacob, there was a fraction of a second that he was visible while messing up his house in front of Locke and Ben. In the frame captures, note the very Victorian frill of his shirt just below the collar. Hmmm, now where have we seen that frilly shirt before? I'll show you where: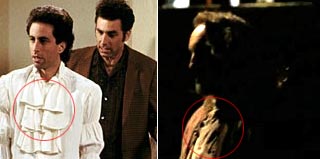 That's right. Jacob is Seinfeld, wearing the Puffy Shirt, and this is incontrovertible proof. But why is he on the island, seemingly trapped by Ben? Who brought him there? I'll tell you who: Newman. He's an Other.
> So Locke got shot, but just watch, the bullet probably hit where his kidney would have been, and because he was missing it he survives, and it'll turn out it's a good thing he lost that kidney. Or something.
> And I bet you Juliet dies. Juliet is so going to die. Maybe not in the upcoming third season finale, but eventually, she's going to die. She's set up to die; she's even named for a character who dies, and the parallels are all there: the LOST castaways are the Montagues and the Others are the Capulets. I don't know if that makes a Romeo out of Jack or Sawyer or Ben or Goodwin.
> Tip to Charlie about giving family heirloom rings to babies: choking hazard.
> And OMG SAWYER KILLED LOCKE'S DAD COOPER WHO TURNED OUT TO BE THE ORIGINAL SAWYER WHO CONNED HIS PARENTS. Man. What a twist. Talk about your Dickensian coincidences. I totally did not see that coming at all. </sarcasm> I get the impression, however, that the climactic chain-strangle fell somewhat short of the ultimate revenge fantasies that Sawyer had stoked in his imagination from childhood, and the emptiness of that victory on his part will come back to bite him later in the show.
> More from TV Squad, Mostly Muppet, Cathode Tan, and if you really want to be utterly uber-spoiled, here's the infamous "LOSTFAN108" Greatest Hits / Looking Glass spoiler post which has been making waves the past week or so. So far his "Greatest Hits" synopsis has been spot on, but I'm still calling shenanigans on the Looking Glass synopsis as foiler. We shall see.