---
12/27/01 7.30am : Flight to Cebu
---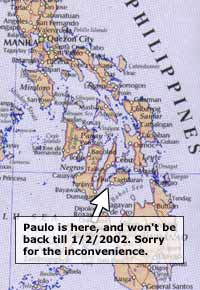 Manila to Cebu by plane, 1 hour.
I'm writing this on my handheld, from the window seat of the plane. We've just taken off from Manila, and it'll be about an hour's flight to Cebu.
This is my first time flying since 9/11. No, I'm not stone-cold terrified, in case you were wondering. I *am* a bit apprehensive. I normally enjoy riding planes, but recent events — including but not limited to: 9/11, the Brooklyn crash, and the explosive shoes — have made us all painfully aware of the dangers of air travel. Terrorism! Wake turbulence! Pressure pockets! Upper atmosphere radiation!
Bad airline food! Ugh. The flight attendants just handed out Presto cream sandwich cookies and Zesto "juice."
Oh, time for the inflight "Bring Me" game! Stewardess stands at front of cabin. "Bring me a cedula! Bring me a passport! Bring me four 10-peso bills!" Yippeee.
… We've landed at Cebu. Just waiting now.
---
12/27/01 10.30am : Boat to Bohol
---
Cebu to Tagbilaran by boat, 1 hr 45 mins
We're on the Cebu-to-Bohol passenger ferry now. The passenger cabin is large, airconditioned, and well-lit, almost like the plane we just rode this morning. I'm just glad I'm not seasickness-prone. The waves today aren't exactly friendly.
They're showing a Discovery Channel documentary on helicopters. Mom and Dad have gone upstairs to check out the open-air upper deck. I'm sleepy.
… On the upper deck now. It's actually an open-air passenger area, with rows of seats. Covered, of course, so the sun doesn't beat down. But there isn't a whole lot of wind, since this is a rear deck, and all the wind is coming from the front. I think I'll go back down.
---
12/27/01 5.00pm : Panglao Island Nature Resort
---
We arrived at the port of Tagbilaran, Bohol, around 11am. From there, we boarded a van which took us through town, across a bridge to Panglao Island, and to the resort itself. (did I say earlier that we would go by banca? I was mistaken.)
What a delightful beach resort it is! Narrow paved paths run through lush tropical foliage, connecting a maze of quaint little bungalows and cottages, capped with pointed nipa roofs. The rooms themselves are cozily equipped, with aircon, hot water, and at my parent's bungalow, a splendid patio and hot tub overlooking the beach and bay.
After a hearty lunch, we spent the afternoon sleeping off our long morning of travel. I opted not to swim, there being a cold, stiff wind blowing in. Tomorrow, the family will go out to Balicasag for a day of scuba diving. My brother has beamed me a Palm Dive Log just for the occasion.
---
12/28/01 11.00pm: Balicasag diving
---
Balicasag Island isn't directly accessible from the resort; we had to take a van with our gear to Alonas, on the other side of Panglao Island. While Panglao Nature Resort is a nice place, Alonas is definitely where the watersports action is; a strip of small seaside resorts targetted at, and equipped for, scuba divers. A bit more rough and tumble in terms of accomodations, but certainly charming with the rural atmosphere of barangays and sari-sari/souvenir stores. There were also a couple of internet cafes, and most of the little resorts take major credit cards. Not too shabby for a little island, eh?
We loaded our gear onto the bangka, and headed out to Balicasag, 30 mins from Panglao Island. Scattered clouds and a stiff wind made for a cold dive, but once we were in the water and had moved around a bit, things warmed up a bit.
Dive 1 was at "Black Forest," a steeply sloping reef marked with soft black corals which give the site its name. I saw a couple of parrotfish, a school of small neon-blue fish, and some nice fan coral. Um, yeah, that was about it. Then we surfaced, swam back to the bangka, ate a packed lunch, and fell asleep.
We did our 2nd dive about an hour later, at "Marine Sanctuary." The water was colder, and murkier, despite a mild current along the wall. Several other dive groups were there as well, and between all the bubbles, the cold, the murk, and a funny taste in my tanked air, it got a bit disorienting at first. Not fun. Still, there was some pretty sea life: a striped zebrafish with expansive fins like open hands, a venerable old stonefish encrusted and drowsy, a surly little clam which clammed up at the slightest touch, and a circling school of friendly jacks which followed us along the reef wall.
After this dive, we decided it was too cold and cloudy for another one, and opted to head back to the resort.
I like the resort community in that area a bit more. Though somewhat rough and tumble, there's more room for sport, spontaneity, and improvisation, as compared to the shielded hotel environment back at Panglao Nature. Plus, the beach at Alonas is nicer.
---
12/29/01: Bohol tour
---
I'm writing into my Palm on the resort tour bus. The countryside is typically Filipino provincial, lush and verdant, equal parts thick jungle and sprawling rice fields, dotted with villages of small concrete houses and nipa huts.
Crossing the bridge to Tagbilaran now. Huge mangrove plantation. We're heading now for the "blood compact" site, where tribal Filipinos and Spanish first made peace. Getting down now … Okay, I got pix!
There's a town here called "Alburquerque." Heh. Oh, now they've shown us a local blacksmith, where they make bolo knives from old car parts.
Now approaching the town of Loboc, deeper inland. Lots of squat palm trees sprouting from muddy ponds; it's from those swampy fronds that nipa is made.
Now we're going to see tarsiers! … Okay, back on the bus now. I got to hold on to a few; or rather they got to hold on to me. Tarsiers are tiny monkeys, no bigger than a fist, with long tails and big round eyes. They hang onto branches and tourist's arms with dextrous, spidery fingers. Cute and friendly when tame; rather bewildered, they jump from branch to branch with startling speed.
Now we're going up the winding road to the Chocolate Hills, and passing through a manmade forest of mahogany trees planted by students in 1958.
Within sight of Chocolate Hills! 1,628 round grass-covered hills, formed from the gradual erosion of coral-encrusted limestone formations, sprawling across 3 municipalities. We'll be going up the highest hill, which is equipped with a viewing deck and canteen.
…Okay, we're back! The hills are much bigger than I thought, averaging about 100-200 ft high. It's a beautiful view from the summit deck; large, round hills in all directions, stretching as far as the eye can see. In the valleys between the hills lie cottages and rice paddies. At this time of year, though, the hills are well-watered by the rain, so the barren brown color from which they derive their name is replaced with the green of fine grass.
According to our tour guide, the Chocolate Hills were so named when an American compared the conglomeration of mounds to Hershey's Kisses. The name stuck. Am I the only one struck by the colonial irony of one of the Philippines' most famous natural landmarks being named for an American food product?
After Chocolate Hills, halfway to the next leg of our tour, the bus broke down — out of range from any landlines or cellsites. Ever resourceful, our tour guide flagged down a passing provincial bus, asked the passengers if they minded the company of a large group of tourists, and herded us on, children and all.
We got off the bus to board a large covered raft docked along the Loboc River, furnished with tables, chairs, and a meal of grilled chicken, eggplant, and shrimp. As we lunched, the raft headed upstream, pushed by a small motorized banca. About 30 minutes upriver, when most of the group had finished eating and were just enjoying the scenery along the riverbank, we arrived at a set of small, picturesque waterfalls, called "Busay."
The raft tarried there for a bit, while we took pictures, and a few of the kids swam. Then, it was a swift ride back downstream to the dock, where our newly repaired bus was waiting.
From there, we stopped at a hotel in Tagbilaran to buy snacks and souvenirs, before heading back to the resort on Panglao Island. That's it. It's time for dinner in the resort garden, under a full moon, with the voices of the Loboc children's choir serenading us. :)
---
12/30/01 2.26 pm: Bleh.
---
Something we ate yesterday did not agree with us; half the family, myself included, was downed by severe stomach cramps, vomiting, and diarrhea. Hence, I spent the whole morning in bed, groaning from cramps, and standing up only to go to the toilet.
I feel much better now, if a bit cross, and am eating rice porridge in the breezy hotel restaurant. I still have a fever and headache, and will need to pass the rest of the day in bed.
---
12/31/01 7.44 am: Not delightful
---
Feeling better this morning, but still a bit queasy.
Did I call this resort "delightful" a few days ago? Perhaps not so entirely. Between this nasty stomach flu, the shower in our room that refuses to run hot water despite numerous calls to housekeeping, constant power interruptions, and the lack of any room for improvisation outside of hotel facilities, I don't think the place is as much an idyllic paradise as I thought it was. The scenery's great, the staff is friendly, but some of the facilities are getting on my nerves.
I think that next time, we may be staying in one of those smaller diving resorts along the Alonas beach area.
---
12/31/01 10.56 am: Heading home.
---
On the ferry now, heading back to Cebu. It's the same helicopter documentary showing, again and again. I'm getting really tired of Apaches and Hinds and Notars and Blacksharks and Ospreys. I'm going upstairs. Within sight of Cebu now.
My brother tells me diving wasn't too great yesterday, what with it being cold and overcast.. Perhaps all the better I didn't go.
---
12/31/01 4.02 pm: Landed.
---
Back in Manila! I'm spending New Year's with my family, then it's back to work to tie up those tenacious loose ends.
And so ends my December Bohol trip.