Posted: 2013-10-05, 4:26PM EDT
IKEA Desk ("MIKAEL") - $25 (Merrifield, VA)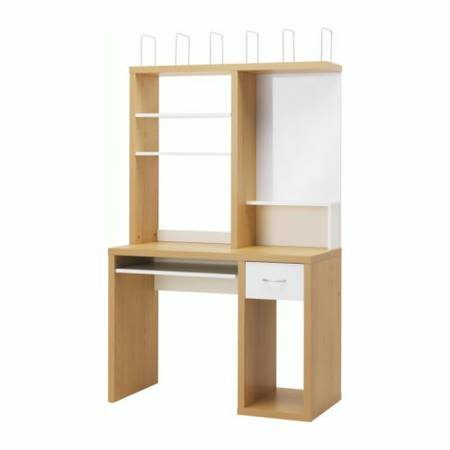 Maybe you're a bit tired of standing in the corner, holding your laptop in one hand and trying to type with the other, all your papers and thumb drives and other computer peripherals strewn about on the floor. Maybe you have a free 41x20 inch space somewhere in that apartment of yours, and you're wishing, just wishing, for some kind of surface on which you could place that computer to free up your tired arms for real work.

I have the answer for you, friend. It's called a "desk."

Yes! This noble assemblage of wood and particle board panels, when combined with that technological marvel, the "chair," (not included) is exactly the solution you desire for being able to sit and use your computer with both hands in a rested, sitting stance! Built through unknown magics of secret darkness within the giant Swedish blue box known only as "IKEA," this desk features an elevated platform known as a "hutch" with multiple supplemental storage surfaces, and even a whiteboard on which you can write and draw figures and even use those arcane ferrous attachments we call "magnets!" How do they work?!

The desk is fully assembled, colored in white and "birch effect," and can be yours for a mere $25. It's ready for pickup any time Sunday afternoon, and transportation to your place of work or residence is entirely under your purview.

I will not disassemble it for you, but I can help you carry it.
Posting ID: 4111721665
Posted: 2013-10-05, 4:26PM EDT
Updated: 2013-10-06, 11:40AM EDT