Date: Mon Nov 10th 01:44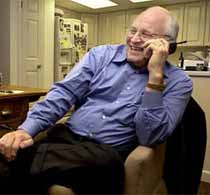 "Thanks to wireless technology, now I can talk to the homeez!!! Wazzaaaap!!!"
Enjoy instant tele-phone communication without wires! This simple yet suave product of modern technology uses high-frequency radio waves to enhance Alexander Graham Bell's magnificent invention, the tele-phone, enabling you to speak as you would over a normal corded device, but into a portable handheld unit! Now you need not be restrained by short, limiting, twisty wires; the cord-less tele-phone can "roam" your entire domicile, giving you clear and crisp "Ahoy-ahoys" up to hundreds of feet* away! Amazing!
Also included is a tele-phone answering machine, that marvelous meeting of Edison and Bell, which answers the phone for you, in your own voice, when you're busy or away! Dispensing with old-fashioned wax cylinders and magnetic tape, the answering machine answers callers in your absence, and as an added bonus, records messages from them onto an advanced memory "micro-chip," so you can instantly "play back" their calls at leisure!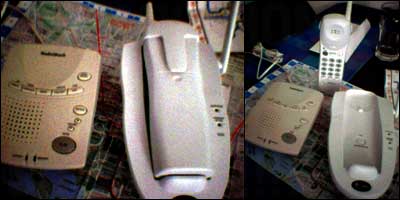 The actual units for sale: Lovely miracles of modern technology!
Get both fantastic devices for the low, low price of $39! They're almost new, in perfect working order, wrapped in their original boxes, with cords and manuals. Buy today, and discover the wondrous joy of "connected" life in the twenty-first century!
(* - Range subject to external factors like lead walls and massive solar flares.)
It's NOT ok to contact this poster with services or other commercial interests in or around Union Station or Dupont Circle